BENEFITS OF YOGA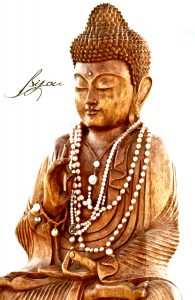 Balanced mind – Practicing yoga calms, relaxes, and balances emotions. Yoga causes you to be prepared but also relaxed;
 Flexibility – Yoga enhances joint mobility, makes the body more supple, and flexible and leads to better coordination of movement;
 Weight regulation – Do not be surprised if yoga frees you up and overweight. Exercising yoga affects cortisol levels in the body, leading to faster burning of excess calories and relaxation – which accelerates weight loss;
 Yoga exercises improve breathing and lead to decreased heart rate, increased endurance, and increased oxygen levels. Yoga corrects improper posture that releases us from tension and discomfort.
As Lao Tzu said, "the journey of a thousand miles begins with one step." I hope you will take that step and join our tribe for your next yoga practice. See you on your mat!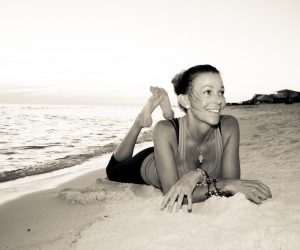 This unique Vinyasa class is challenging & fun, incorporating fast paced flow with upbeat music. Commonly referred to as "flow" yoga, my classes move quickly but students are always encouraged to stop and explore where needed. Offering a variety of postures and new sequences every practice this class will connect breathe and movement, strengthen the body and improve overall health. With flowing movements and great music, this class provides a great work out! Be ready to move, sweat, explore and most importantly, Play Yoga!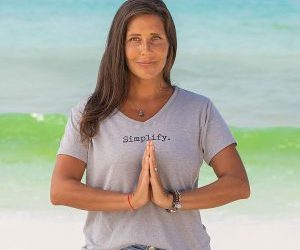 This 75 min class begins slow with breathe work, grounding, stretching and builds from there. We will find the space between poses while still retaining the gentle rhythm of a flow yoga class. With a combination of Vinyasa Flow and Hatha yogo we will explore periods of reflection and static holding beneficial for building strength, stability, and postural integrity.  This slower pace offers a meditative practice with mindfulness of action and awareness of breathing.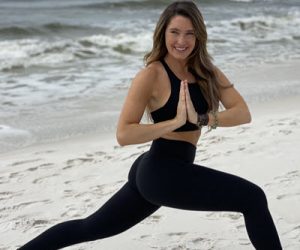 Vinyasa Yoga with Kenzie Burleigh:
Get inspired and sweaty through a Vinyasa style yoga . All levels of yoga are welcome and encouraged. Her class is a good mix and challenge of balance, flexibility and strength in a heated environment. You will experience transitions of heat building flows with cool down recoveries, in a friendly and open style atmosphere. Groans and laughs are welcome! Every 6 weeks a new theme of flow will be introduced to the class. The foundation of form will build your flow and knowledge of the movement and breath. You can easily drop in for a one-time class, or continue the 6-week journey to understand and conquer each themed series.
Created in India over 5,000 years ago Yoga delivers many psychological and physical benefits. Perhaps the most frequently mentioned psychological benefit of yoga is an improved ability to manage stress. Yoga diminishes levels of anxiety, depression, and lethargy and promotes achieving balance and happiness. Yoga encourages your body to attain regularity, relief from little aches and pains, the ability to sleep deep and wake refreshed. Yoga assists all your muscles and bones and organs to operate at their maximum potential. Yoga has the amazing power to relax and refresh you, soothe your nerves, calm your mind, and improve your stamina.
By practicing yoga regularly, we change our mindset from "I can't" to "I can." The purpose of yoga is to create strength, awareness, and harmony in the mind and body. Relaxation techniques embedded in yoga can reduce chronic pain, such as back pain, arthritis, headache, menstrual pain. Regular and proper practice of yoga can influence the regulation of blood pressure and blood flow in the body, thereby coordinating the work of the heart and other organs. You can learn and practice yoga on your own, with the help of YouTube or some of the many books and specialized videos, but hardly any of these methods can be compared to practicing in a Yoga studio. The opportunity to see, hear, and ask a skilled instructor directly about the many aspects of Yoga practice is only possible when working with someone who has been engaged in it for a long period. We at Yoga Studio Thirty A strive to be the first choice and the right address for anyone interested in starting or continuing to practice Yoga.
For all yoga instructors at  Studio Thirty A, yoga is a science, a game, and an art. Yoga is not just about working on the physical body – yoga is working with yourself through the body. As we practice yoga, we break the blockages that create repressed emotions in the muscles. Yoga is also the release of the ego – we remain conscious and gradually abandon the patterns of behavior that we are shaped into and which harm us. Therefore, yoga has a beneficial effect on health, as a way to counteract the devastating impact of stress and improve quality of life.